Ella's Blog
What I am most excited about on my big travel

I canít wait to go on my eight month trip around the world. The thing I am most excited about is the fact that we are going to learn about different animals, places and hobbies from different countries. Another thing is that mummy and daddy are going to teach me (I wonít have to be rushed to school or anything like that). I know I am going to have a lot of fun and I canít wait to start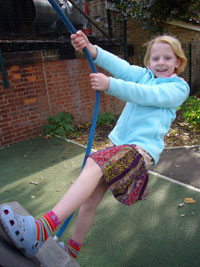 McLeod Ganj and the Dalai Lama
Date: 08/07/2007 | Author: Ella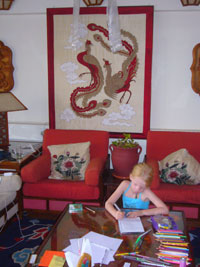 After Manali we stayed in the Norling Guest House just outside Dharamsala. Norling is part of an area called the Norbulingka Institute which is trying to help Tibetan culture stay alive. In Norbulingka they have an art shop which sells special Tibetan wall hangings called Thangkas and other things like that. They are all made in Tibetan work rooms. There is also a Tibetan dolls museum and it was all very interesting.
Not far from the Norbulingka Institute is a place called McLeod Ganj. There are lots of Tibetan refugees who live there because the Chinese people invaded Tibet and tried to take over. McLeod Ganj is also home of the Dalai Lama, who is a really special, holy man. Everyone calls him Your Holiness, that's how holy he is.
On 6th July it was the Dalai Lama's birthday and there was a big long life puja for him and we went there. We got a really good position right at the front. It took a while for the Dalai Lama to come out but when he did, he was being rushed along by all the other monks and there were so many people that I didn't see him at all! After the puja we went to the temple cafe for lunch and ordered a Margarita Pizza. When it came out we took our first bites then scoffed it down - it was the best pizza I have ever tasted (by the way I have never been to Italy!).
The following day we left Norling and moved to another hotel in McLeod Ganj called Chonor House. Our room in Chonor House (called the Songtsen Suite) was REALLY nice and had lots of things from the Norbulingka Institute in it. While we were there Dad met a monk and the monk said "Can you give me English lessons?" and Dad said 'Yes, of course". So he did and Florence and I helped - it was good fun. The monk's name was Kunchok. The views from Chonor were amazing. It is set on a hill overlooking McLeod Ganj. Tibetan Prayer Flags hung in the view and the clouds often visited the balcony. We spent 5 days in the Chonor Guest House and then we were off again - this time to Delhi It was a very long car journey so we slept one night at the Vaseela Resort in Chandigarh - it was very nice. The people who worked at Vaseela were very happy to have us in their hotel that they gave us a free dinner and the owner came to chat to us!
We left Vaseela quite early and were soon in Delhi again but this time it wasn't as hot as when we arrived in India a month before. We stayed in a very big hotel called the Radisson near the airport and it had a huge swimming pool! You wouldn't believe how excited I was the next day as that was the day we were heading home!!!!!!!!!!!!!!
Top of page
Previous posts
Countries
Months