Gabby's Blog
We have been talking about doing a trip like this ever since Ella was born. Now, after 10 years of working for an amazing company and doing a great but very busy job, I'm ready for a break and some freedom. I can't quite believe we're off in less than 2 weeks. Since I gave up work 6 weeks ago time has flown by. The kids are really looking forward to it.

I'm a little nervous – it's going to be an experience spending so much time with the family – especially Dave. He and I are so used to spending so much time apart I'm sure this aspect of the trip is going to be a challenge – 24/7 with a man I have spent less than 2 months with this year!

I can't quite get excited yet but I am really looking forward to getting away from the distractions of tv, the internet and mobile phones and general London busy-ness. It's going to be an amazing experience for all of us – especially the girls. They are very excited but already talking about the things they are going to miss at school while we are away. I'm sure that will all change when we're on the beach in Thailand!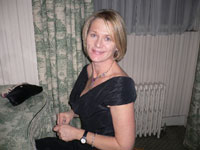 Little Lhasa in Northern India
Date: 08/07/2007 | Author: Gabby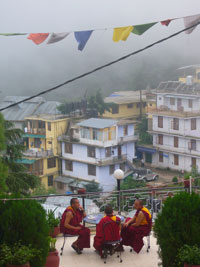 We never did get the bus from Manali to Dharamsala - the Himalayan Roads are too windy, the Indian driving too bad....... A car with drier was the only option. We lucked out as the travel agent we had booked our treks through had to drive there so we received a hefty discount. Apart from a terrifying incident at the beginning of the journey where the driver nearly fell asleep (apparently on medication that made him drowsy) and, at the end of our journey, a fallen tree across the road, it was a pretty cruisy trip. No vomiting and very little whinging! We had booked in to the Norling Guest House part of the Tibetan Norbulingka Institute about 18km from McLeod Ganj (where the Dalai Lama and exiled Tibetan Government are based). The Norbulingka promotes the continuation of Tibetan Culture - in the grounds is a great cafe and the lovely guest house itself. We were the only guests in a place full of images of the Dalai Lama at various ages through his life - it was an amazing, peaceful place and somewhere we all learnt a huge amount about Tibetans, their culture and the crisis their country has been going through for the past 50 or so years. With 2 days until the Dalai Lama's birthday celebrations, we discovered there would be a long life puja (prayers, offerings) at 8am next day. As we were 18km away we had a really early start, and arrived at the temple at about 7.30am only to be told we couldn't bring phones or cameras in to the complex. Thankfully, we were booked in to Chonor House from the following day - only 5 minutes up a steep path - so I was able to leave everything there while Dave and the girls went in to the temple to get a good spot. I was so excited at the prospect of getting a glimpse of the Dalai Lama. After a stringent security check, I found Dave and the girls in a prime spot - right next to the area His Holiness would walk. The wait was long and the girls did get a little bored. Fortunately a few nuns distracted them with their keenness to practice their English. A few minutes after an initial flurry where the Karmapa came through surrounded by his entourage, the moment came where the Dalai Lama and his entourage walked through. He was whisked by so quickly, it really was just a fleeting glimpse - the girls, confused by the huge number of red robed monks besieging him hardly managed to see him at all! It was a very special moment for me but one I think the girls will forget very quickly!
The next day we moved into McCloed Ganj itself. Perched on a steep hill above the larger town of Dharamsala, Mcleod is more like being in Tibet than India and is often referred to as the Little Lhasa of Northern India. Chonor House was just beautiful and, with it's views over the Dalai Lama's residence and Buddhist temple complex, oozes a calmness and serenity we had not experienced in any of our other accommodations in India. Our room, the Songtsen suite was lovely. The whole hotel was decorated with Tibetan rugs, thangkas and furniture - it was a great place to escape from the bustling town. Our relaxation was aided by possibly the best massage I have ever received. Two Tibetan Doctors, Dolma and Kalsang, came to our room on at least 3 occasions to give all of us Tibetan massages. McLoed Ganj is also full of great places to do yoga and the classes I did were far better than anything I did in Rishikesh (somewhere I won't be returning to!).
It was a great place to end our month in India but the plight of the Tibetans made us all feel really angry. While China is devastating Tibet, the rest of the world is just looking on. We met so many Tibetan children who escaped to India when they were really young, leaving their parents behind. How desperate must the situation be for parents to send their young children away? I just can't imagine.
We had 5 blissful days there. We did try to book the train to Delhi (from Pathankot - a 4 hour drive from McLeod) but the sleeper had been booked months before. Hearing of another bus that had been driven off the road killing 30 people meant the sleeper bus was NOT an option so, once again, we booked a car and driver.
We stopped enroute in Chandigarh at the Vaseela Resort. We weren't expecting anything special but it was everything Nature Notes wasn't. Sadly, with less than 12 hours there we weren't able to make use of all of it's facilities but the place was lovely and the owners charming.
So, seven and a half months after leaving the UK, we arrived in Delhi for the last night of our incredible trip. The traffic was a nightmare and it took us about 3 hours to cross the city to get to the Radisson hotel at Delhi airport. This was the most expensive accommodation of our whole trip. That's just one of the disparities of India - it's one of the cheapest, yet one of the most expensive places in the world! I was glad to be leaving the country, but I hope I will go back one day soon.......
The girls hardly slept on our last night - they were so excited about getting home. They didn't sleep on the plane either. The flight was practically empty so we all stretched out on 4 seats each. The chief steward, Sam, when she heard we were heading home after such a long time away, plied Dave and I with champagne and gave the girls bags of gifts - it was a great flight home!
An excited Aunty Loo met us at Heathrow & the girls leapt into her arms. We were greeted by a huge 'welcome home' banner when we arrived at Andy and Helen Beales house in London. We are not going home just yet - we're staying there for a couple of weeks before continuing our nomadic lifestyle in the West Country. Why spend the summer in London when the kids aren't at school? It's going to be a slow reintegration in to London life - I think it's the best way to go.........
Top of page
Previous posts
Countries
Months