Florence's Blog
What I am most excited about on our big adventure.

I am excited about that we are going to meet lots of people from different countries and cities and that my mum is going to teach me. Also I will spend lots of time with my mum my dad and my sister and I won't have to rush to school.

I will meet my Gran and Da, Jess (my other sister), Australian uncles and aunts and my cousins.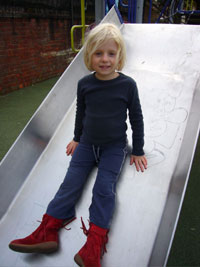 The Dalai Lama
Date: 08/07/2007 | Author: Florence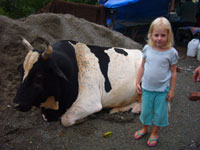 After Manali we had a long drive to another part of the Himalayan foothills and stayed at a nice place called Norling Guest House at the Norbulingka Institute. It had a very big garden that fitted a dolls museum and an art gallery! It was a holy place and had a very nice garden with Tibetan prayer flags and prayer wheels. Because the garden was soooo big we went on a tour around the garden. We saw things like a big Buddha in a temple in the gardens and we saw people making thangkas which are big paintings but with lots of detail put into them - it looked very hard (I expect it is!). Norbulingka was a holy place because the Dalai Lama visits every now and then. The Dalai Lama is the head of the Tibetan Buddhists. In our guest house, upstairs where our room was, there were lots of pictures of the Dalai Lama during his life from the age of three to now. The Dalai Lama decided to be a monk from the age of three, the Tibetans call him Your Holiness. Ella and I were very excited when we went to the Dalai Lama's puja! We got a good space in the front and waited a very long time until he came. He was very close to us when he walked past and had lots of other monks around him. It was very hard to see him but I got a quick glance.
The next day we moved from Norbulingka to Mcleod Ganj. Mcleod Ganj is the home of many Tibetans because the Chinese invaded Tibet and the Tibetan government moved there. We stayed in a lovely hotel called Chonor House. There were lots of Tibetan prayer flags in the garden and lots of thangkas painted on the walls in our room. While we were there we learnt a lot about Tibet and how China invaded the country. We stayed there for 4 nights but we were really looking forward to going to Delhi to go back to London.
Another mad drive to Delhi THEN HOME!!!!!!!!! Apart from one night's stop over at the Vaseela in Chandigarh (which we spent ages trying to find), we only stopped for the occasional camping wee! The drive was long, but we finally reached our posh hotel, with a swimming pool and big rooms, near the airport in Delhi. We only stayed there for one night - we didn't sleep much because we were soooooo excited about getting home!
Top of page
Previous posts
Countries
Months