Our Photos
Ella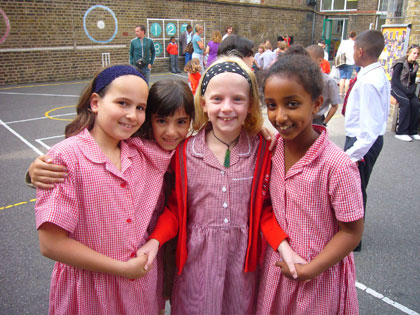 The circle is complete. Back to school for the last two days of term.
Top of page
Florence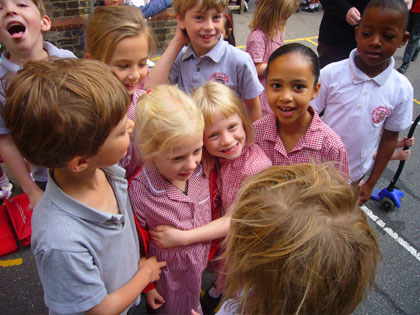 An emotional return to all her class mates.
Top of page
His Holiness turns 72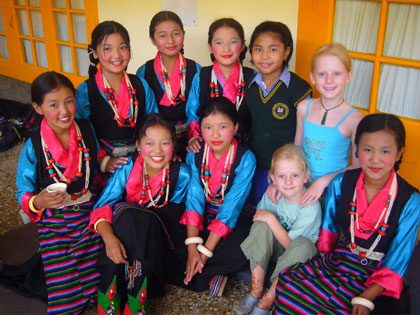 Our girls with young Tibetan refugees at the Dalai Lama's birthday celebrations in McLeod Ganj
Top of page
Chonor House, McLeod Ganj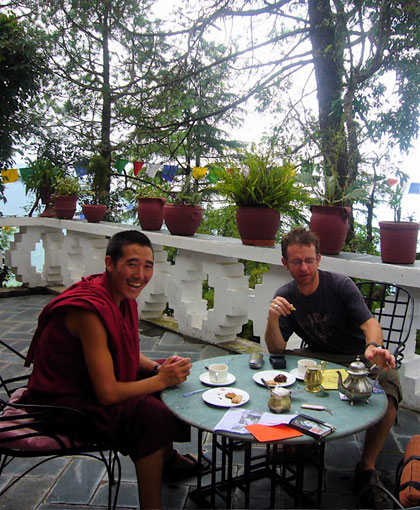 English lessons and tea.
Top of page
A Tibetan Sanctuary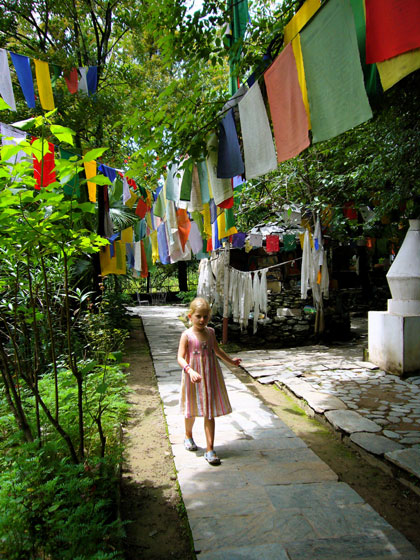 Florence in the gardens of the Norbulingka Institute near Dharmsala, India.
Top of page
Spiti Valley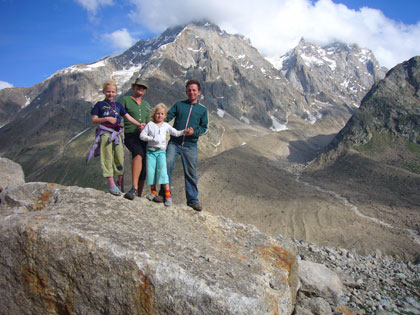 The Spiti Valley, in the rain shadow of the Himalaya, is a bleak, high altitude desert. With no trees and not enough oxygen, we only lasted one night.
Top of page
Himalayan Camp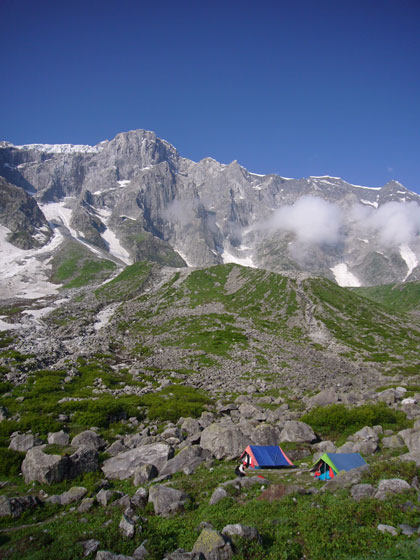 Our campsite at Baker Thach (place for shepherds) with the best ever view from a tent. In the top left of the photo you can see the face of 'hanging glacier'. This is a 50-60m high wall of ice.
Top of page
Beas Kund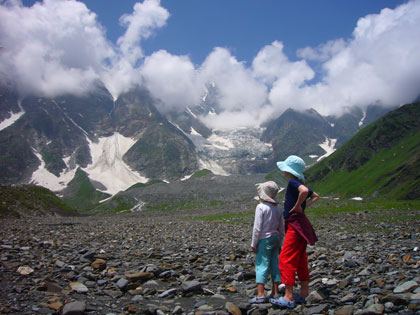 Standing in the now dry Beas Kund (lake), the girls can't quite get over how far they have walked.
Top of page
The Himalayas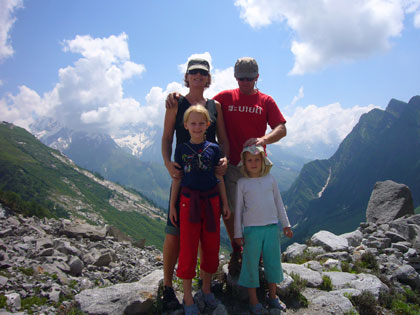 Day 2 of our trek. Half way to Beas Kund at 4,000m
Top of page
Downtown Manali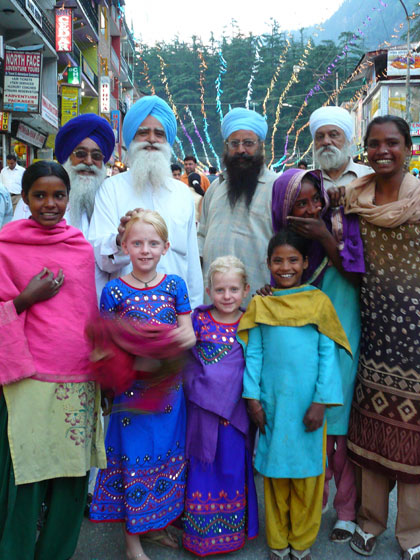 When ever we venture into town the girls seem to attract a few admirers!
Top of page
Happy Birthday Florence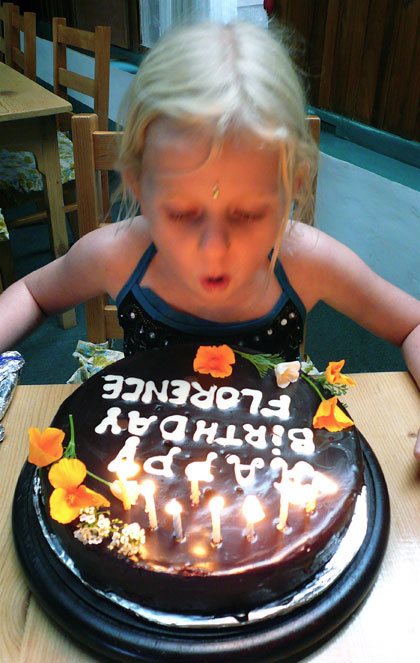 It's not easy turning 7 when your friends aren't around. Fortunately, Johnson's cafe make the best chocolate cake in Manali..........
Top of page
Welcome to India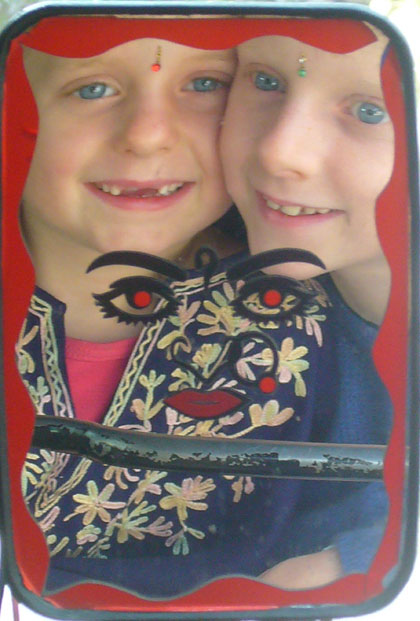 The rickshaw has now taken over from the tuk-tuk as the girls favourite mode of transport. Being in India, bindis are the order of the day.
Top of page
Halong Bay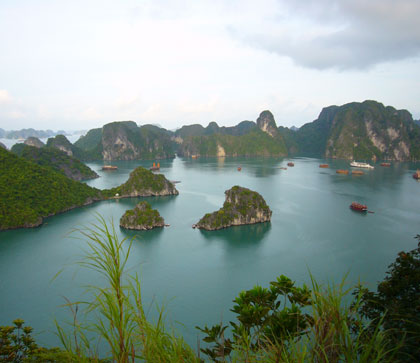 There are about 3000 islands in Halong Bay. It was well worth the walk up this one.
Top of page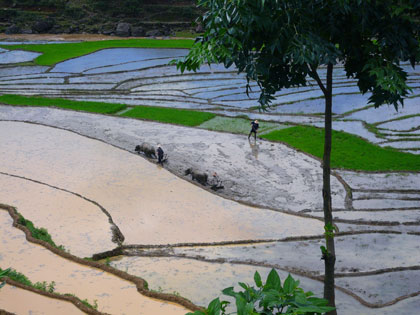 The beautiful terraced rice paddy fields in the countryside surrounding Sapa.
Photo by Florence Bracey.
Top of page
Vietnamese Cyclos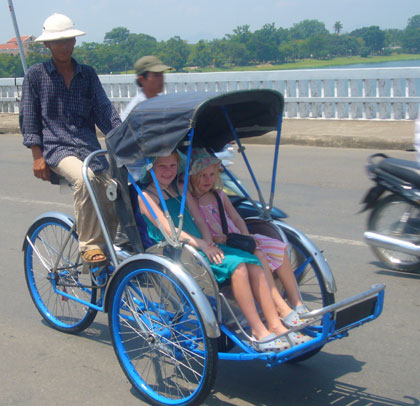 With no Tuk Tuks in Vietnam the girls favourite mode of transport has become the cyclo.
Top of page
Cham Island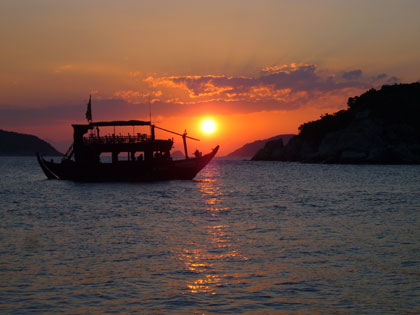 Cham Island in the South China Sea - only one hour from Hoi An, but as far as you can get from the hustle and bustle of Vietnamese life.
Top of page
Hoi An Ancient Town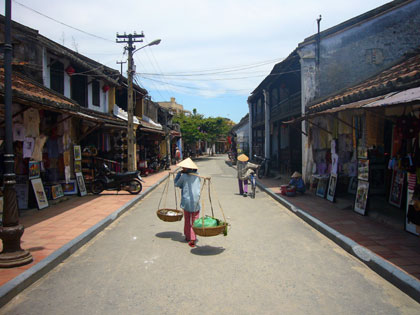 Lovely Hoi An - a great place to soak up Vietnamese history.
Top of page
Whale Island Resort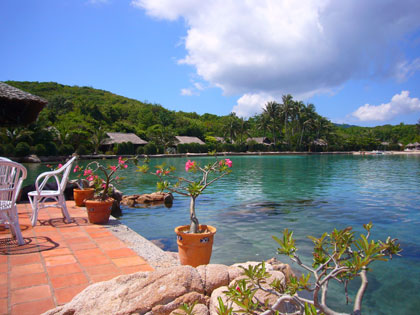 Relaxing, good snorkelling, good food and nice bungalows.
Top of page
Saigon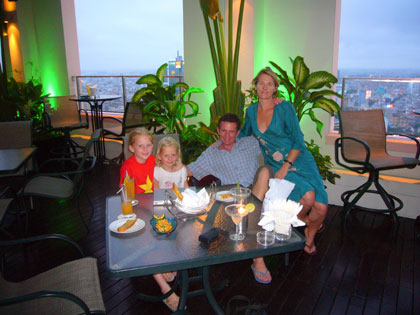 Dave's birthday drinks in downtown Saigon.
Top of page
Phu Quoc Island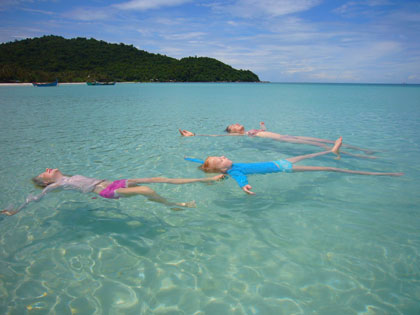 Floating about at Bai Sao on the east coast.
Top of page
Good Morning Vietnam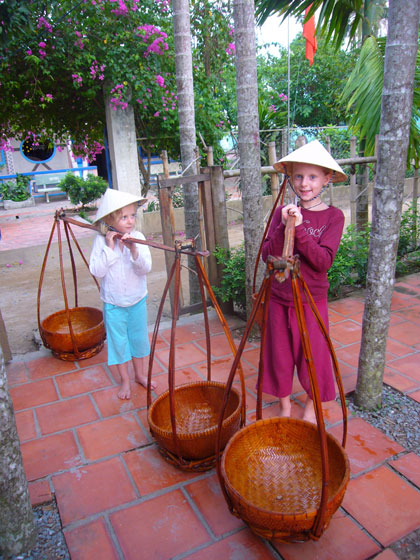 Outside our homestay near Can Tho on the Mekong delta.
Top of page
Sisters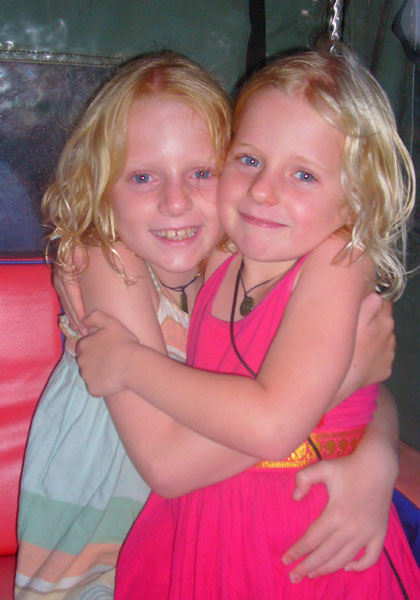 We have been on the road together for 5 months and are still best friends!
Top of page
Angkor - Ta Prohm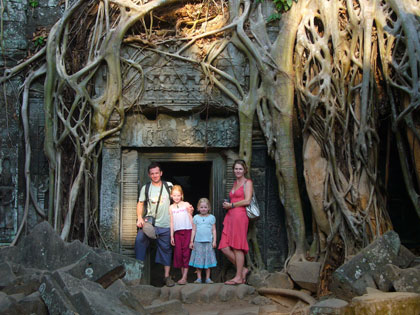 Banyon trees have a firm grip on the ruins of this maze like temple.
Top of page
Angkor - Preah Khan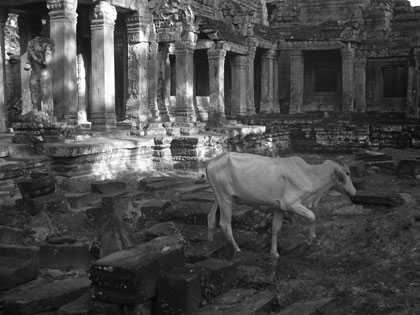 Stepping back in time at the sprawling Preah Khan
Top of page
Angkor Wat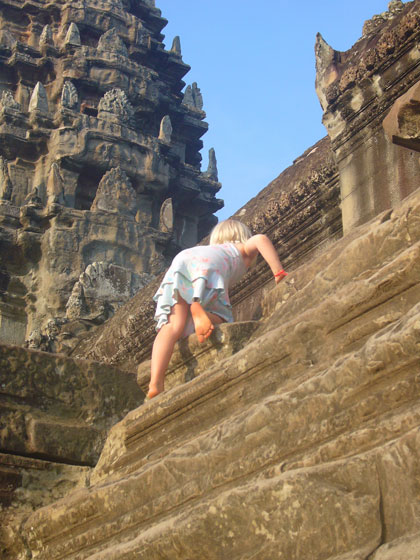 A challenge for the girls climbing up the steep, worn steps to the central gallery of Angkor Wat. The world's largest religious building.
Top of page
Pi Mai Lao - Laos New Year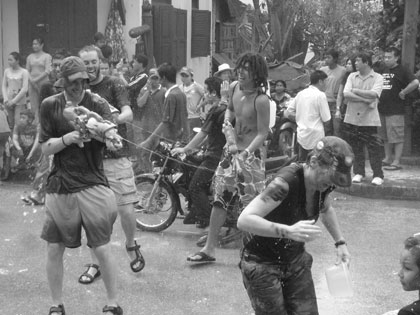 Many farang (foreigners) get in the spirit of the water festival. Gabby got involved in her usual exuberant way but sometimes got more than she bargained for!
Top of page
Pi Mai Lao - Laos New Year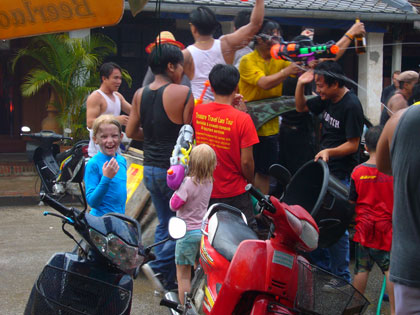 Lao New Year - The country's biggest festival held in April every year. The 3 day holiday involves a lot of getting wet. The girls armed themselves with the biggest water pistols they could find and gave as much as they received..........
Top of page
Kuang Si Waterfall Pools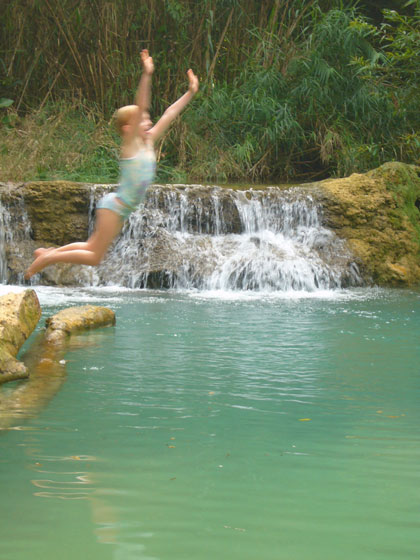 Ella jumps from the lime encrusted fallen tree into one of the many swimming holes downstream from the Kuang Si waterfall.
Top of page
Monks at Wat Si Bun Heuang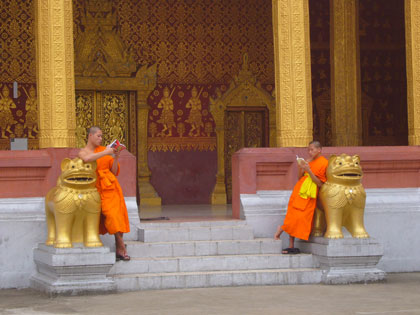 Orange wrapped Buddhist monks are very much part of Luang Prabang's scenery. This World Heritage town boasts over 60 temples and these novices and monks study and live in many of them.
Top of page
Luang Prabang Cafe Culture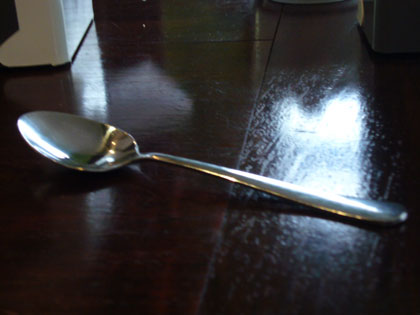 photo by Florence Bracey
Top of page
Luang Prabang Statues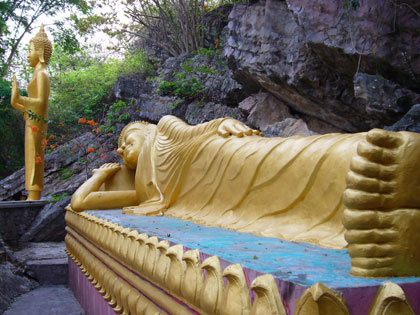 On the slopes of the 100m high Phu Si hill you pass many new Buddhist statues amid the ruins of an abandoned temple.
Top of page
Mekong River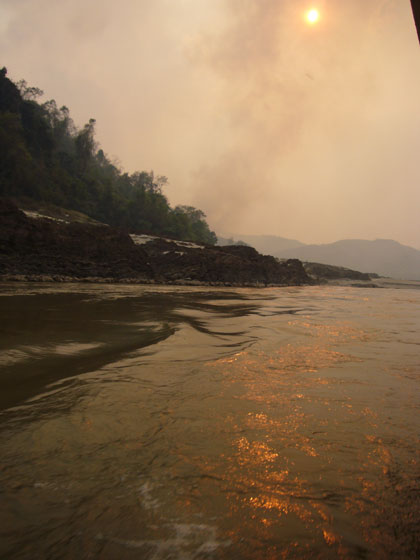 A smoky but beautiful trip down the majestic Mekong
Top of page
Tree House Breakfast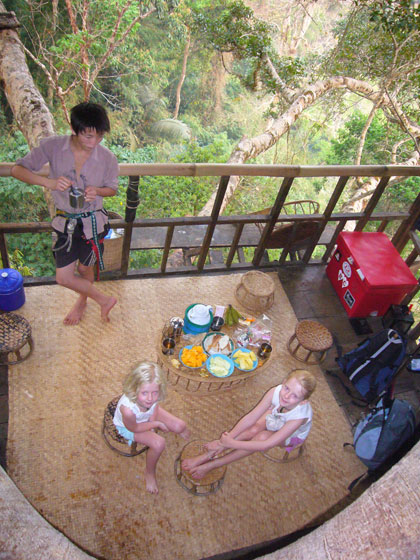 Breakfast time at Tree House One: Green tea, pineapple, papaya, bananas and sticky rice with vegetables.
Top of page
Chiang Rai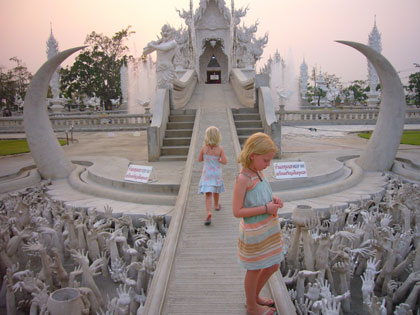 Beautiful Buddhist temple (under construction) in Chiang Rai.
Top of page
Travel by tuk tuk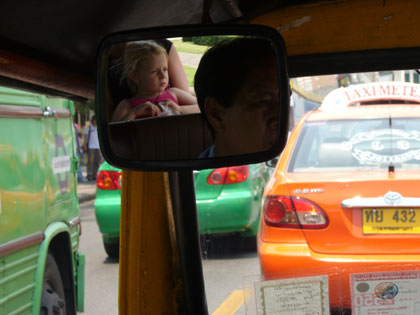 Our girls favourite mode of transport. A tuk tuk does not feel 100% safe in the feisty Bangkok traffic but then neither do the taxis or busses.
Top of page
Cooling off in Manly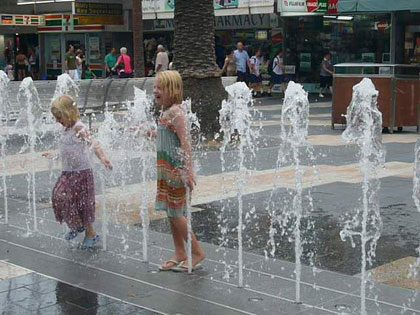 These fountains on the Corso in Manly tempted the girls every time we walked past them - and every time they got drenched.
Top of page
Girls at Waiwera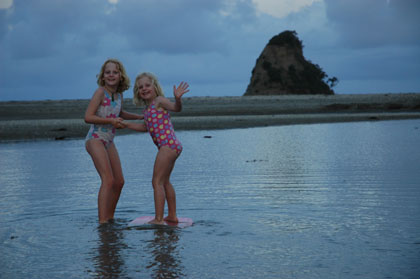 The girls enjoying our last beach stop in New Zealand at Waiwera - just 30 minutes north of Auckland. They look so grown up!
Photo by Greg Peacocke
Top of page
Bay of Islands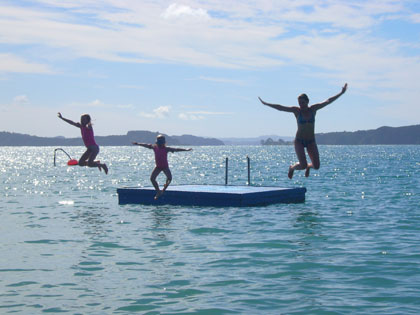 Swimming at our local beach, Tepaka Point, while staying at the Barclays. Gorgeous.
Top of page
90 Mile Beach
Long drives with the girls is usually a pretty arduous affair - this drive up 90 mile beach was an obvious exception! A great way to travel - no other vehicles, no traffic lights, a 100km/h speed limit the whole way coupled with great views. The girls enjoyed poking their heads through the sun roof to catch the breeze.
Top of page
Te Paki Sand Dunes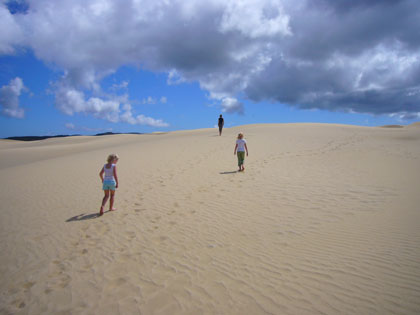 If you're fond of sand dunes and salty air - this is the place to be! Don't forget your toboggan (see video clip)
Top of page
Rocky Point
Rocky Point. On the beach at Greg and Mary-Ann's. Possibly the most peaceful place we have ever experienced.
Top of page
Geyser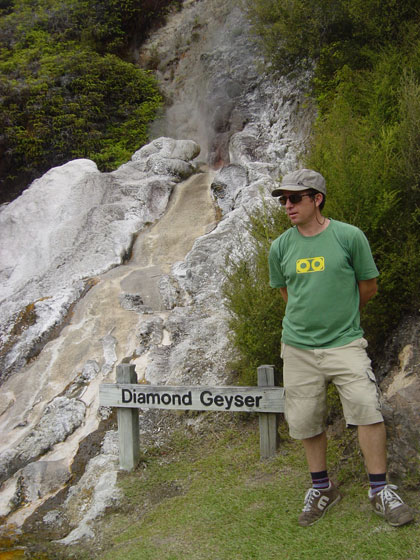 In the thermal areas of New Zealand we saw many great sights but few of them matched the majesty of the Diamond Geyser.
Top of page
Marlborough Valley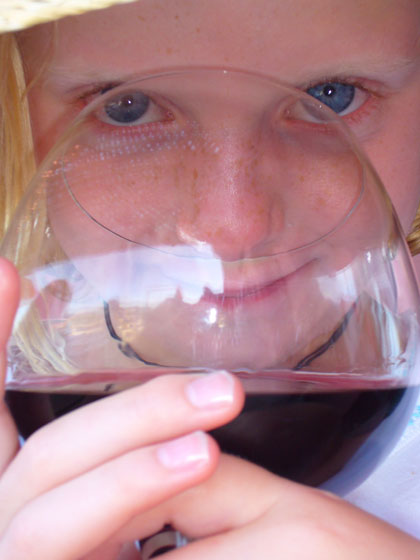 Ella becoming accustomed to the aromas of fine wine
Top of page
Lake Tekapo from Mount John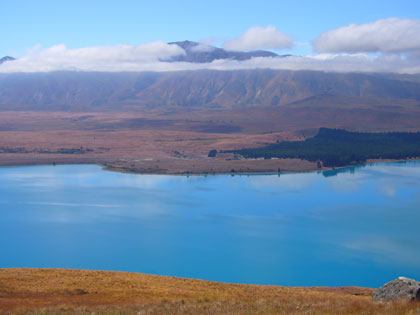 We have never seen lakes this turquoise before and there are plenty of them in this part of New Zealand. The colour is due to rock flour in the water. The 'flour' is created when the stony bottomed glacier rubs against the rock valley, causing fine particles to be suspended in the galcial melt water. The sediment gives the water a milky quality and refracts the sunlight beaming down, hence the brilliant colour. Amazing!
Top of page
Aoraki/Mount Cook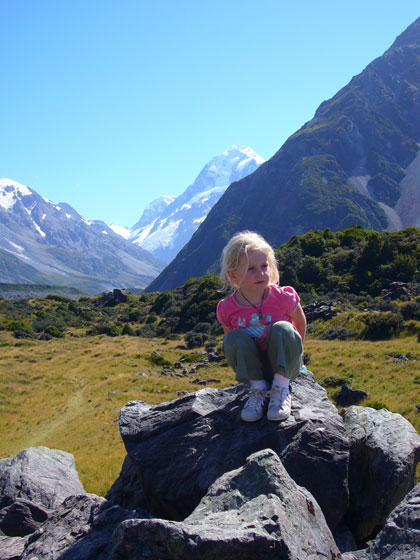 Florence at the start of the (8km round trip) Hooker Valley walk to New Zealand's highest mountain. Aoraki means cloud piercer in Maori but there were no clouds to be pierced that day. Another stunning walk, snow capped mountains always in sight, the sound of ice falls accompanying us the whole way....
Top of page
Doubtful Sound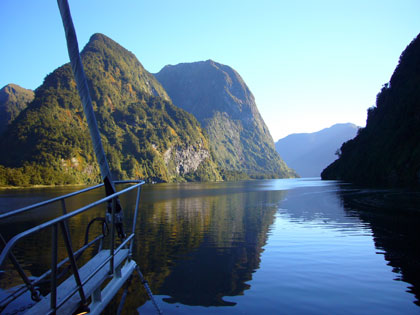 On board the Fiordland Navigator.
Top of page
Flying Girls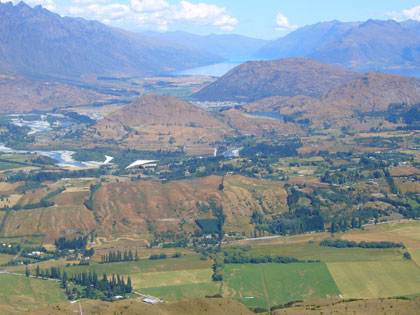 Ella and Florence soaring over the Otago countryside on their tandem hang glides. Having jumped off the mountain at Coronet Peak they flew for about 20 minutes with other hang gliders, paragliders and a few hawks. They both loved it!
Top of page
Terminal face - Franz Josef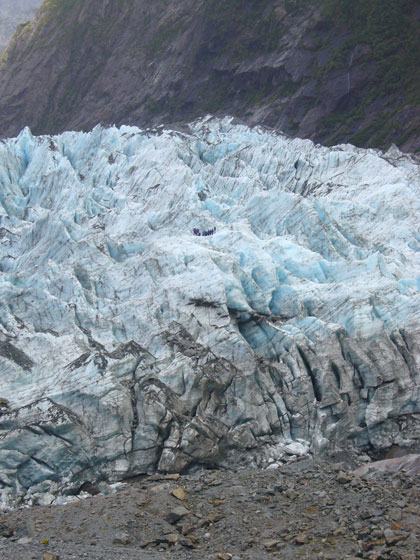 It's difficult to convey the monstrous enormity that is the Franz Josef glacier but this photo goes a little way to doing that. It's of the terminal face and the you may just be able to make out eleven people in the centre of the ice. I did this trip on the glacier (without the kids) after missing out on the heli-hike. It was brilliant to walk on this enormous feat of nature!
Gabby x
Top of page
Franz Josef Glacier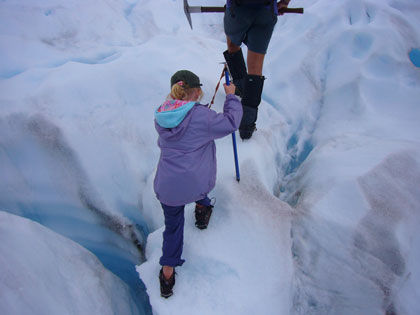 Ella following 'Goose' up the glacier. The ice is 100m thick at this relatively flat area of the Franz Josef. We are about midway up the 11km long glacier.
Top of page
Franz Josef Glacier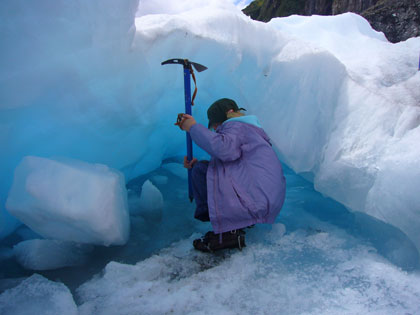 Ella looking into a pressure cave which her dad was enticed to crawl through shortly after. A bit wet.
Top of page
Hokitika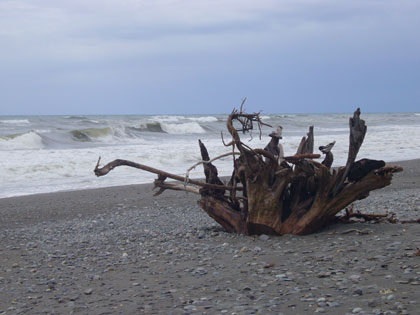 Driftwood
Top of page
Hokitika Driftwood Sculpture Competition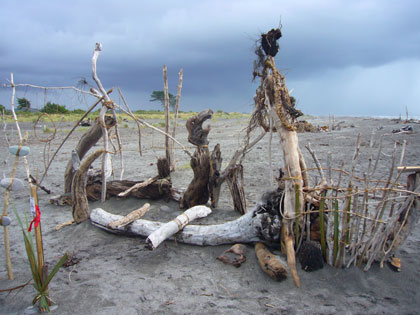 Viking Cruisers. Ella's favourite sculpture.
Top of page
Punakaiki Sunset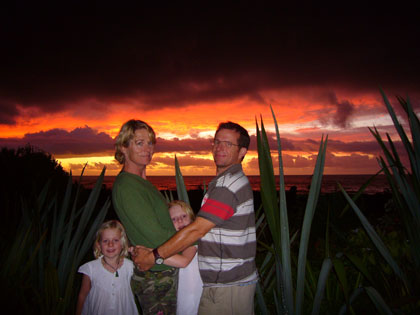 From our deck at Hydrangea Cottage. Magic.
Top of page
Onetahuti Beach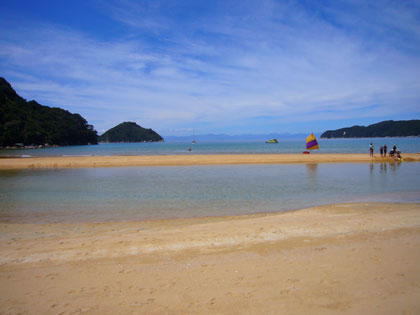 Well worth the walk.
Top of page
Awaroa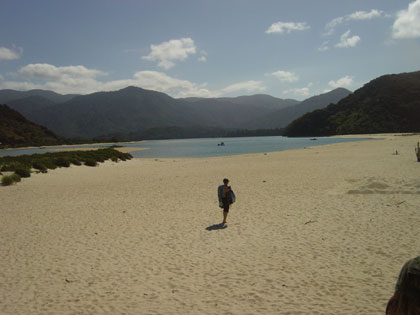 Dave heading for a swim by the sandbanks.
Top of page
Gabs & Florence walking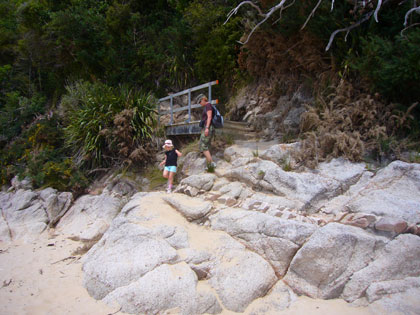 Near the end of a 10km coastal walk - Florence hadn't asked to be carried once but did have a good supply of chocolate to keep her energy levels up!
Top of page
Ella & Flo on the beach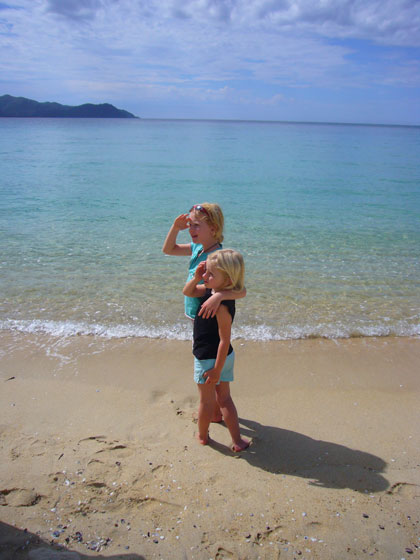 Waiting for the taxi on the golden sands at Awaroa beach isn't a problem.......
Top of page
Seals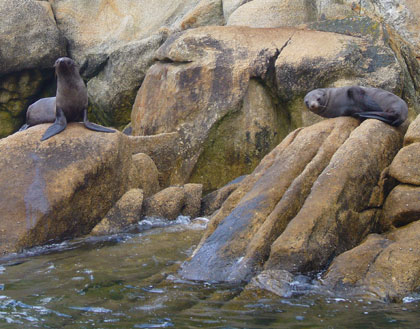 Seals on Tonga Island in the Abel Tasman National Park are so used to the visiting tourist speed boats they readily pose for photos........
Top of page
Sea Kayaking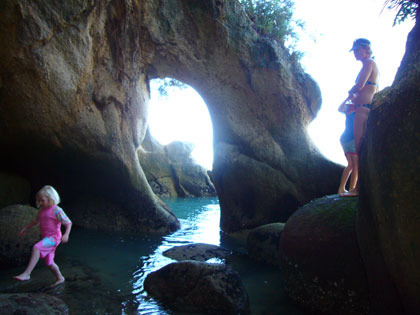 Exploring some caves during our stop at a secluded beach in the Abel Tasman National Park. South Island. NZ.
Top of page
Horse riding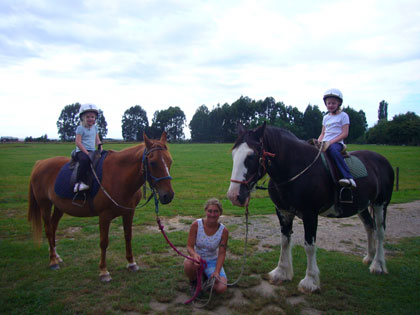 Ella and Florence on Ginger & Star on their horse ride in Marahau - bigger horses than they have ever had before!
Top of page
Marahau Beach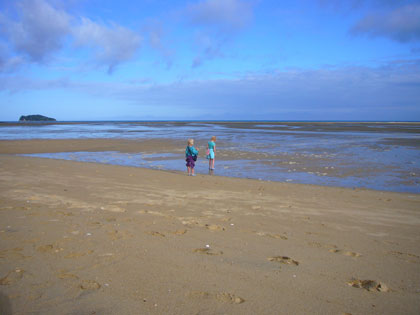 There is a 4m tidal range in this corner of the South Island which gives dramatic changes in the scenery.
Top of page
With Jez in Havelock.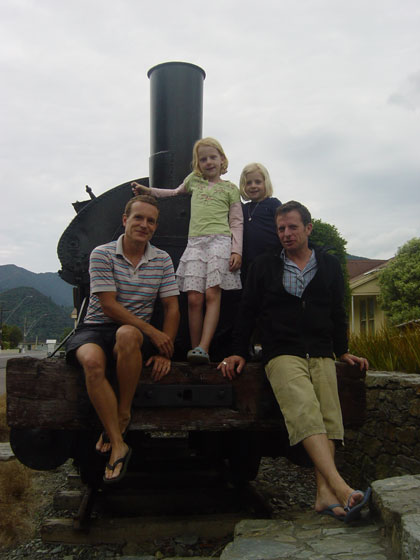 Top of page
Flying Fox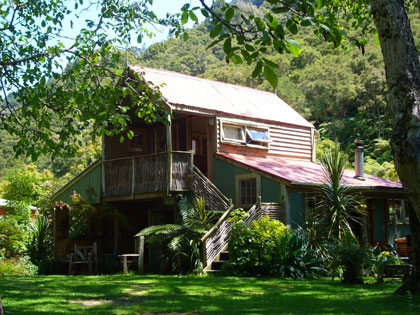 Our gorgeous cottage (we were in the James K) at the Flying Fox on the Whanganui River Road. This eco lodge is run by John and Annette. Their dog Billy is the resident children's entertainer. The only way to reach your accommodation is by flying fox, 20m above the river, or jet boat. We can't recommend this place highly enough, it was ace!
Top of page
Raglan Surf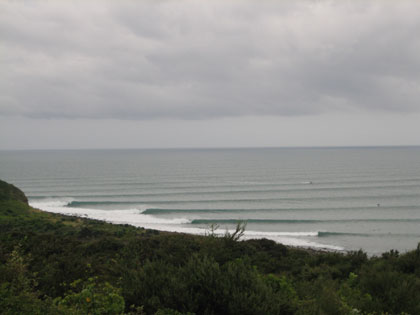 This is why they live there
Top of page
Marcus and Victoria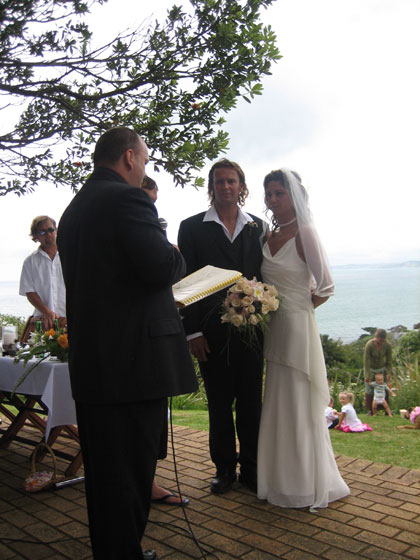 A fabulous wedding in a great setting - overlooking the famous Raglan left hand break. Thankfully, for Victoria, there was no surf on the day.........
Top of page
Wedding Boys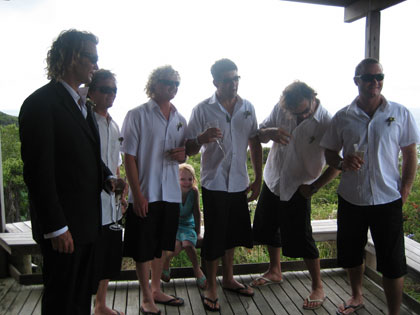 We've never seen so many pairs of shorts and flip flops worn on a wedding day......check out Ella hangin' with the boys!
Top of page
Pohutukawa Tree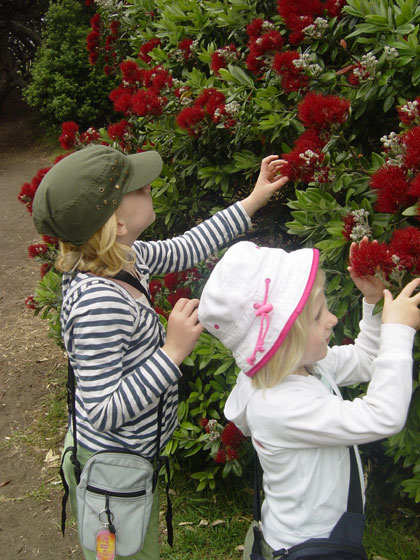 These 'New Zealand Christmas Trees' flower in December. The red flowers contain the most delicious honey which the girls found to be a perfect snack during the long walks we were doing!
Top of page
Best to cover your tracks.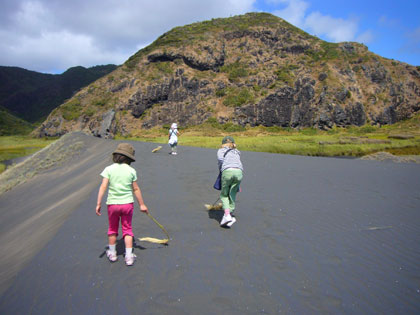 Black sand dune by the swamp south of Karekare. Yes, the sand is hot.
Top of page
Florence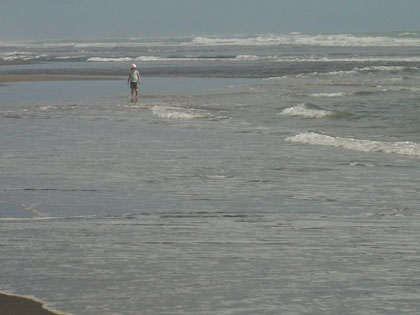 at Karekare
Top of page
Ella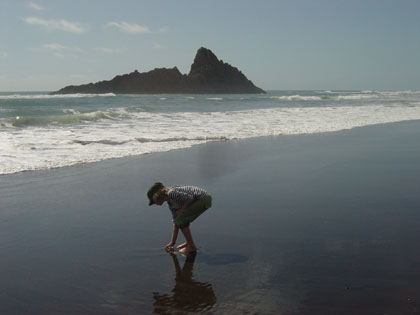 at Karekare
Top of page
Dave and Florence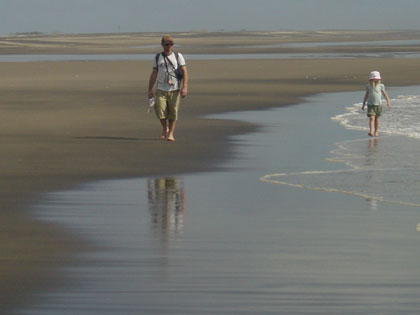 Karekare
Top of page
Americas Cup match race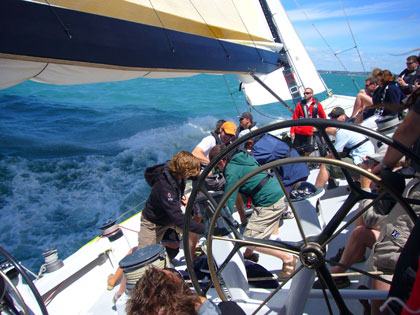 On the main winches. Bart and Dave. Auckland harbour.
Top of page
In the Lead.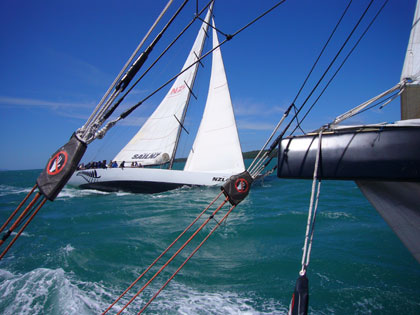 Top of page
We win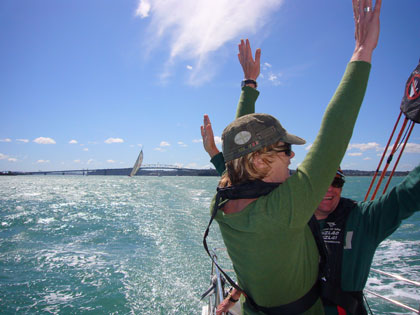 NZL41 beats NZL40 convincingly.
Top of page
Karekare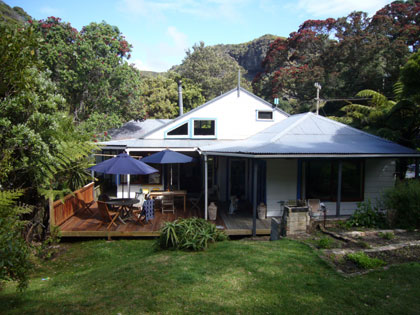 Flo and Sarnes lovely home at Karekare beach to the west of Auckland. (45 mins)
Top of page
Karekare
Karekare beach. Stunning black sand and lush cliffs.
Paddy Gabby Dave Sherif Steph Bart.
Photo by Jez Webb.
Top of page
Wild Tassie Sky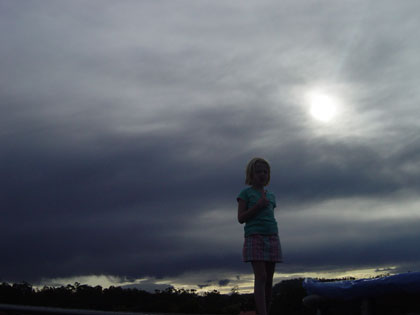 Top of page
Grass tussocks on mountain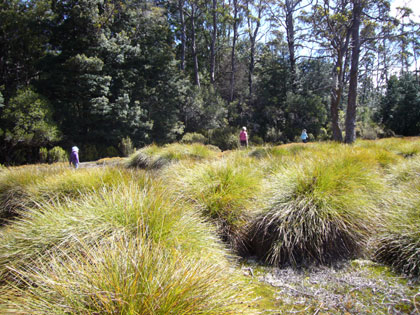 The girls new word for the week - 'tussocks'
Top of page
Tame possums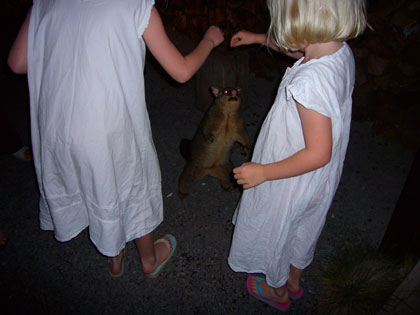 Bedtime at the lodge. The baby possum wanted to come inside and sleep on the girls bed that night. We had to coax it out of our cabin. They may be cute but they eat everything.
Top of page
The long walk
The easy rated walk. Most of this 9km walk is on a raised boardwalk to minimise damage to this amazing place.
Top of page
Drinking the Grange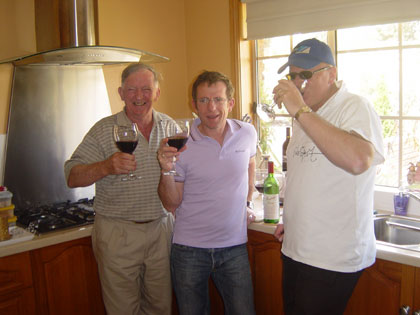 This very fine 1991 wine is incredibly expensive to buy (probably worth about £20 a sip) but was a gift from the lovely Michael Chugg - Robbie Williams' Australian tour promoter and another Launceston lad.
After much deliberation we decided to crack it open on Christmas day, much to the delight of Dad (Ron) & brother-in-law (Andrew). In a desperate attempt to get Andrew to crack open his bottle of the same wine but the 1995 vintage, Ron begged us all to take a photo of him drinking the last sip of his glass & probably "the last Grange I'll ever drink in my life". Sadly, Andrew didn't take the hint but promised to open his bottle at Ron's wake.........
Top of page
On Quadbike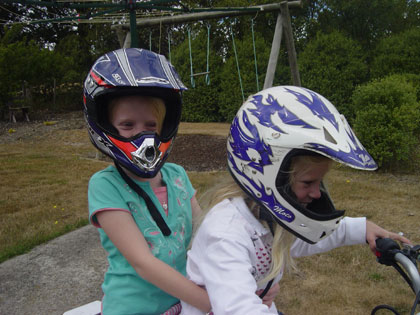 Ella and Sarah-Kate
Top of page
Bracey Cousins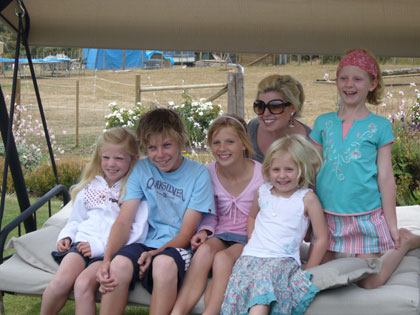 All the cousins together on Christmas Day for the first time!
Top of page
Christmas Day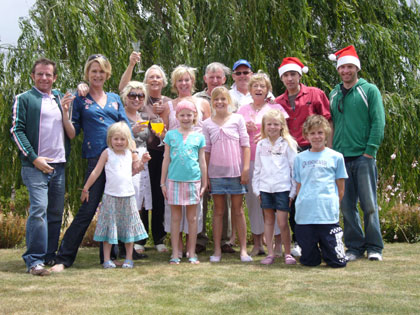 The whole family at Wendy and Andrew's
Top of page
Sydney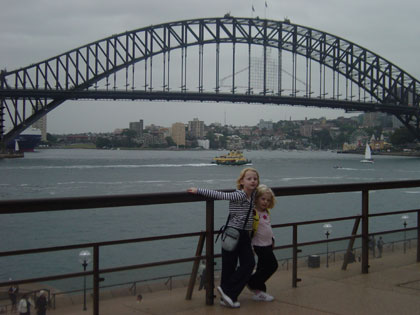 Top of page
Sydney Opera House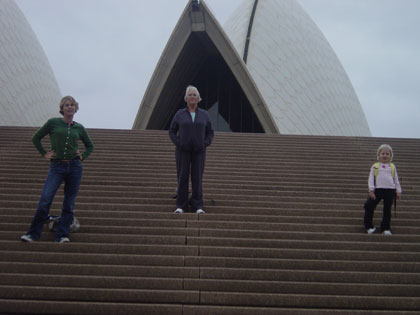 Photo by Ella Bracey
Top of page
Sydney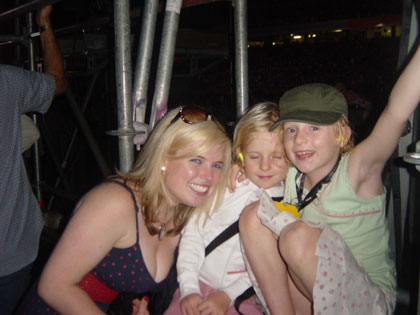 My three girls at RW show.
Top of page
Taronga Park Zoo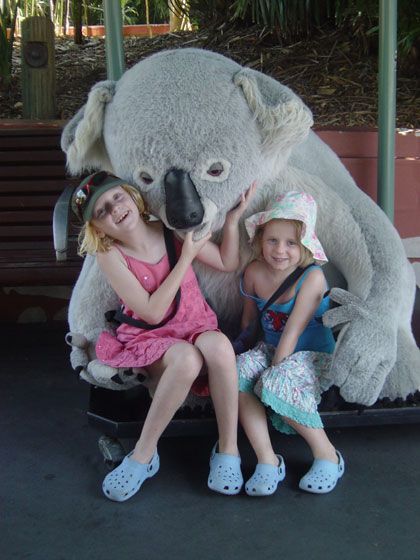 Not a real Koala.
Top of page
Sydney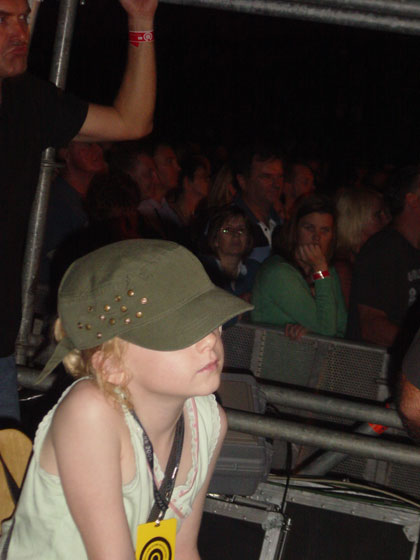 Ella. Looking very cool at the Sydney Stadium. Chap on left, not so cool.
Top of page
Traditional Thai Massage
2 Thai sisters came to the house on several occasions to massage us on our deck. Ella & Florence looked forward to the experience more than we did!
Top of page
Caves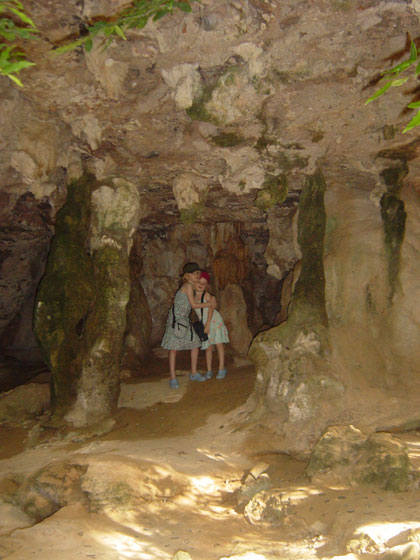 Gorgeous caves on the way to Ao Phra Nang Beach. Not sure how to explain to Ella & Florence the number of red tipped wooden phalluses stacked at the entrance to Princess Cave (Tham Phra Nang). Phra Nang, it is believed by local fisherfolk, controls the fertility of the sea!
Top of page
Sunset Views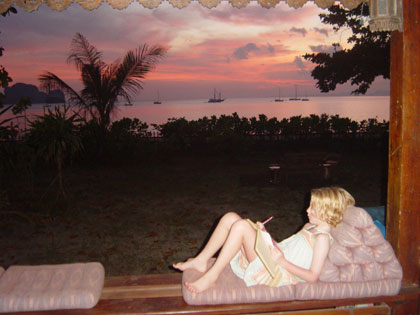 Such a lovely way to spend the last hour of daylight!
Top of page
Diary writing
Keeping up to date with diaries.
Top of page
Snorkelling trip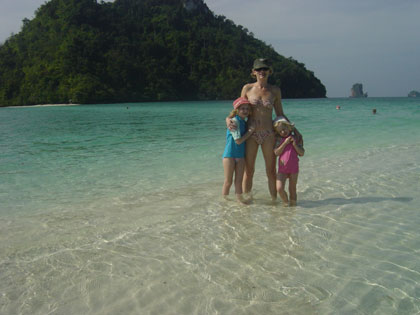 Gorgeous beaches, great snorkelling - so many fish!
Top of page
Monkeys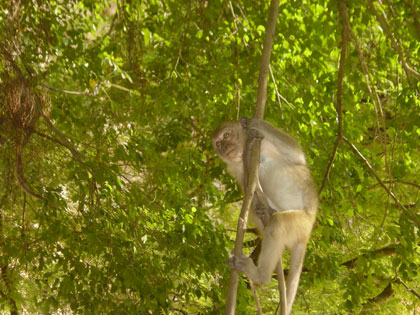 Krabi/Thailand
Top of page
Our lovely beach house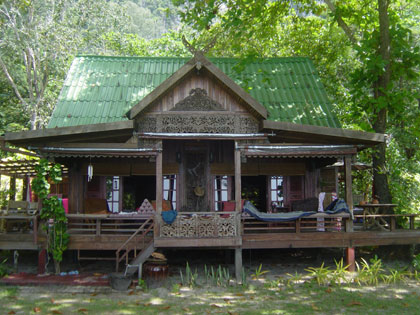 Deborah's House at the Railei Beach Club www.raileibeachclub.com - a perfect place to relax & do very little for a week!
Top of page
Ella's Leaving Party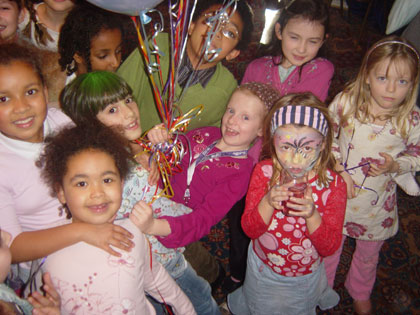 Ella 9th Birthday and leaving party - surrounded by all her friends.
Top of page
Leaving Party - spinning plates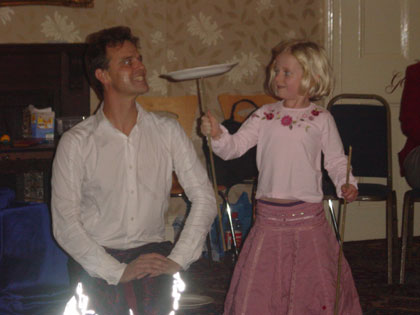 Asterix - party entertainer extraordinaire - kept the kids entertained for hours! His assistant, Florence, had to spin plates (they were really heavy mummy) but managed not to drop them!
Top of page