Blogs from Cambodia
The Killing Fields
Date: 01/05/2007 | Author: Dave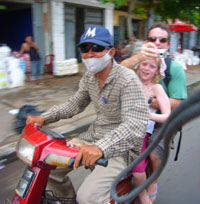 I am finding this blog hard to write. Hard to start even.
Phnom Penh is a great city. We are not staying along the busy river-front but have found a quiet hotel, 'The Scandinavian'. The owner has offered us the pool front room for the price of a regular twin. A great launch pad for the girls late night skinny-dipping sessions. Apparently with a chequered history, this hotel has been recently renovated, is leafy, has style, and we like it here.
Our first day is spent pottering about the waterfront. There is a blind massage school here and we all partake in the 'seeing hands'.
The Russian market in Phnom Penh is a good place to pick up a Buddha statue, so I do. The Royal Palace is good for a stroll and we spend an hour there just before closing time. Nice browsing streets are easy to find armed with the Luxe guide. We see some nice bits and pick up a couple more statues.
Of course all this Buddha accumulation required another shipment home. I take a few nick-nacks and three statues to DHL. Bearing in mind that the 10kg I sent via EMS from Laos cost $130, I get a shock when DHL charge me $443 for 16kg. I see an EMS the next morning. You win some you lose some.
There is no easy way to write the next bit - I have spoken to several people who have said, "the Killing Fields, there is not much there" - well, I am not made from as hard a stuff as they. It is definitely the most grim and disturbing place I have ever been.
Stand by a mass grave for several hundred people that contained not one head. Stand by the tree used to kill the infants. Here they either hit these babies against the tree or threw them up in the air to come down on another Khmer Rouge's knife.
Stand by the 'magic' tree. Here hung a speaker that played continuous music so that people in the surrounding fields could not hear the constant sounds of death. They preferred not to waste bullets here. 300 people per day were clubbed to death. It is not the memorial tower containing 800 skulls that I will remember as years go by but the bones and clothing underfoot as you walk. Sombre.
Next stop was the Bhodi Tree Cafe for lunch. Gabby and I left the kids here while we took it in turns to visit Tuol Sleng. A school used by the Khmer Rouge to torture 17,000 of their victims before sending them to be executed at the Killing Fields along with their whole families. It is today, pretty much as the Khmer Rouge left it in 1979. Complete with victims photos and blood stained floors. The wide eyed fear in these photos I will not forget either. From 1979 the Khmer Rouge fought/existed for another 20 years in Cambodia and Pol Pot died of old age.
Top of page
Recent posts from Cambodia
Countries
Months