Blogs in June 2007
The Curious Incident of the Dog in the Night Time
Date: 24/06/2007 | Author: Dave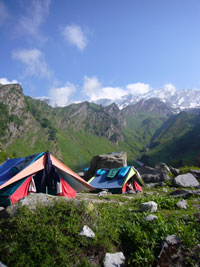 We had been promising ourselves a trek in the Himalayas since our journey started last year and promising Ella and Florence a donkey or horse on this trek in case they need it. We book with a company called High Adventure. They chose a three day trek for us and paced it perfectly. We packed a rucksack each and left our bags at Jimmy Johnson's. High Adventure's office is almost next door and our team are busy repacking as the Indian family that were to trek with us have cancelled at the last minute.
We set off and travelled for 45mins in a taxi until a rope across the road stopped us. Time to jump in the 4wd with our porters and guide. 5 minutes later we are stopped by another rope across the road that this time signifies 'Government Vehicles Only'. It takes only ten minutes for a friend of our driver's to appear in a Gov't Vehicle. India works in mysterious ways, but it does work, and this new car takes us to the start of our walk at the head of the Solang Valley.
With our backpacks on the horse we follow the River Beas up a valley that becomes increasingly steep and spectacular. After about an hour and a half we reached a nomad camp and share some hot buffalo milk while we rested. Our girls use the horse for most of the climb from there. It takes another hour and a half to get to our campsite at 3500m. Gabby and I have lagged a little behind the rest and the tents are almost pitched as we arrive at Baker Thach (place for shepherds). We are not walking at our usual pace in this rarified air. We have all been in mountains before but this is bigger and more spectacular. Higher peaks and larger valleys. Welcome to the Himalayas. We are blown away by the beauty of this place. We have two tents but choose to all sleep in one for warmth.
Sometime in the middle of the night I wake with a pressure on my lower abdomen. I reach down and feel something wet. I reach over my head and grab a torch. I have a black and white dog, I have never seen before, curled up on my sleeping bag. 'Get Out' I say, and without argument she returns to the cold. I fully zip the tent.
The second day we walk to Beas Kund, the source of the River Beas. We climbed from our camp up a hill that is actually an old buried glacier face. On the top there has been a very recent subsidence and we get to see a portion of this 300m deep block of glacial ice. It probably hasn't seen daylight for about 80 years as the glacier has now receded many kilometres up the mountain from here. We stare as the sun carves it's way into this super hard ice. Rock and dirt is sliding down into the hole as the ice melts. It is not the safest place my family and I have ever lingered.
From here we descend into the old Beas Kund lake bed. Traverse it's many streams (including a warm one!) uphill all the way over stone and ice till we finally stop at the base of a waterfall, the official source of the River Beas, at about 4200m. I know it's not Everest, but I think this is our family altitude record.
Camping at Baker Thach was ideal. Shalu cooked great food and in the evening we lit a toasty camp fire in-between two large rocks. Dead wood is hard to find here. We Braceys only ever managed to bring back a small handful of sticks whereas Rajul would appear sooner or later with a massive faggot on his back.
On our last morning our horseman appears with impeccable timing and we make our decent back down to the Solang Valley. As we drive back into Manali we are already talking about doing another trek. This was a highlight of our trip without a doubt.
Top of page
Posts from June 2007
Countries
Months