Blogs in March 2007
The Gibbon Experience
Date: 31/03/2007 | Author: Dave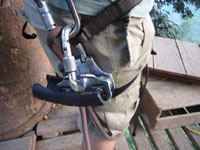 A short boat ride across the Mekong and we are now in Laos. Getting visas and clearing immigration is a hot and humorous affair. Having two blonde children is like having an extra passport. Border guards need more than the normal number of photos of them. Huay Xai is our departure point for the The Gibbon Experience tomorrow morning so Gabby runs the length of town to find a nice clean room for the night. The locals seem friendly. We are excited as we go to bed tonight but there is a little tension in the camp as we try to imagine all that we need for our kids in the jungle and stuff it into a backpack each.
Our early morning journey from Huay Xai to the hill tribe village was a dusty two and a half hours in an old 4WD. We suddenly discover that we have changed to driving on the right now in this ex-French colony. But of course, most road rules in Asia seem to be merely a suggestion.
We were in the village for 20 minutes under the gaze of those that were leaving the experience. Someone asked the question, "how was it" - "OK" said a rather dour chap. I am expecting this maybe to be the highlight of our whole holiday. "OK"?
Much fuss is being made over our little blonde ones again when suddenly our guides, with little fuss, start to move out of the village. We notice this subtle departure but I don't think the guides know the numbers so a few people have some catch up to do. We hike across flat corn fields, across a few streams, then up into the hills. It was hot and hard work for us. Florence was her usual stoic self. Mostly uphill and an hour and a half later, soaked in sweat we arrive at the guides hut/kitchen. A small black bear takes the kid's minds off everything else.
Time to harness up and move on, further uphill. By the time we start to bunch up at the launch platform Ella is already hooked to the zip wire with the first guide. Giving us that 'wide eyed' look of hers. "I am first Mummy......" and they are off through the green to Tree House One.
Tree House One is at least 50m from the ground, can sleep eight, but the living area has enough space for thirteen of us and several guides so we gather there for a cup of tea and a brief safety chat. Green tape is OK, Yellow for safety, and Red tape, no go. That sounds familiar. Oh, and no zipping at night. Very dangerous.
The guides suddenly disappear, leaving us to drink more tea and wonder what happens next. Liv from Copenhagen and Matt and Andy from Ontario are to live in One with us. All of the treehouses have a gas burner ring, candle lamps, running water, a shower and long drop toilet. Very long drop. We have not seen him yet but 50m below on the forest floor is a large black pig to keep things tidy.
We are all itching to go out onto the zip lines. We can hear the guides back at their hut and know that they must have a timetable of some kind, but we have no clues. They receive a prompting from a soon to be resident of tree house three and things get moving. Our next zip line does a tantalising loop out of sight through the canopy and most of us are itching to get on it. Our kids go with a guide first and last. We do the round trip along seven zip lines to Tree House Two and back again. It is as good as it sounds. A quiet English couple disappear into Tree House Two and are not seen again. Off down the track to Tree House Three go a lovely German couple, a wisecracking Brit and one tall handsome Dutchman.
There is also Tree House Four (broken) and the far away Tree House Five.
Five is the destination for the Waterfall Experience. This trip leaves on alternate days to ours, the Classic Experience. Consequently a troupe of novice zippers pass through our house early afternoon, second day. It is hot now and our thoughts turn to ice cold beer. No alcohol allowed here, understandably. I am confident enough now, day two, to take Ella and then Florence on the zip wires. Ella explains to me the best method of dual attachment. It is great fun with the girls in tow as well. Some of the zip lines are a kilometre in length and some are 150m above the forest floor. The views are spectacular and the rides addictive. Heights have rarely bothered me but I am proud of Gabby and the girls as they fly through the canopy.
This is a unique and very satisfying experience. Good for the hill tribes that service it, good for the preservation of the jungle and good for your soul.
I awake at 5am on the last day as planned and took off with the two Canadians, Matt and Andy at the slightest hint of dawn. I fly through the jungle with a healthy dose of nerves (Rule No 1- No zipping in the dark) and make it to Tree House Three just as the gibbons start singing. An amazing sound. I am so glad we made the early effort. Two guides are only ten minutes behind us and take us down the trail that returns from Tree House Five. (Three zip lines there and a long walk back.) We all get glimpses close up of these rare black gibbons but we are clumsy and noisy compared to our guides and the gibbons tiring of our intrusion swing off to parts only they can reach.
We head back to Huay Xai all very happy campers.
Top of page
Posts from March 2007
Countries
Months