Blogs in April 2007
Cambodian Beaches
Date: 28/04/2007 | Author: Dave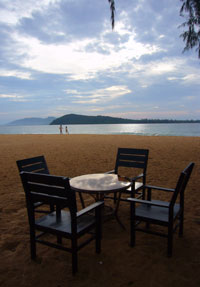 We keep changing our minds. Shall we give the Cambodian beaches a miss and wait till after Phnom Penh and Saigon? The Vietnam coast does seem too distant for both the kids and us, in this heat, so finally it gets the nod.
We get the public bus, (the Mekong Express) as far as PP and apart from having to endure a (Cambodian?) pop promo dvd for the whole trip it was very comfortable.
We stop for lunch in PP and decide over a ploughmans at the Green Vespa Cafe to head to Sihanoukville rather than the closer Kep (our original choice). We pass through some torrential downpours and our driver does modify his driving style for the conditions, which pleases me.
The lovely German couple at the Gibbon Experience had mentioned Queen Hill Resort as nice but we decide to try the more developed Serendipity Beach instead.
Pretty, clean, squeeky white sand, but without the sunset over the sea that we had hoped for. The water was very warm and looked clean too, apart from some plastic bags and the like in the high tide line. We pick up quite a few. The next morning the rubbish is, surprisingly, ten times as bad so we take a tuk tuk to look at Queen Hill Resort. It is on the headland between Occheuteal Beach and Otres beach. A quick swim and lunch confirms that we should move here tomorrow. Back at Serendipity we talk to Khmer and some European locals and they all have a different story about the litter in the water. "It's not there all the time!" they say. One beach restaurant manager told us they don't have time to pick up that rubbish. Gabby and I think that they will have a lot of time on their hands if they ignore it. Where does it come from and if it is not there all the time, where does it go to?
We have just discovered that Coasters (one of the better resorts at Serendipity and almost next door to our increasingly spooky accom) has some bungalows on an island just one hour by boat from here.
A friendly Aussie, nursing a tuk tuk crash injury at Coasters, called his stay on Bamboo Island the highlight of his travels so far. Sounds good.
Less than 24 hours after our first swim at Queen Hill we are running happily back into the sea there, now, as residents. Thirty seconds later we are running, screaming, OUT of the water. We have all been ravaged by sea-lice. The worst I have ever experienced. The girls are crying, the restaurant staff are rubbing lime juice on them and Gabby is crying because the girls are in pain. Seeing their mum upset has a certain recuperative influence on our lovely caring children.
Anyway, we rescue that day by renting a boat and going for a snorkel out by the closest island (over some dynamite fishing deceased coral) and are buoyed by the thought of our trip to Bamboo Island tomorrow. We see a storm approaching and scamper back to Queen Hill just in time.
The following day, leaving most of our stuff in our bungalow, we tuk tuk back to Coasters and head out to Bamboo Island. We arrive there at 11am. It is perfect and our search for a great Cambodian beach is over. Sadly, we can only spend one night, but luckily, don't have to leave till 4pm the following day. We wish we were spending our whole five days here. We can see it raining back on the mainland and we feel smug. The sea is clean and the girls appreciate not being stung by jellyfish or sealice. In these small smooth waves Ella gets back the confidence she lost having been badly dumped (just once) during our last week in Sydney over a month ago. I love watching them both learning to body surf.
All is good. Thank you Bamboo Island.
Top of page
Posts from April 2007
Countries
Months