Our Videos
Hanoi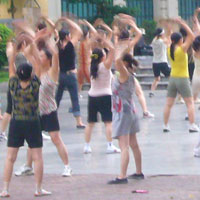 Ho Chi Minh told the Vietnamese that they should exercise early in the morning. From 5am around Hoan Kiem Lake you can see thousands of locals still taking his advice some forty years after his death.
Top of page
Vietnam Beach Karaoke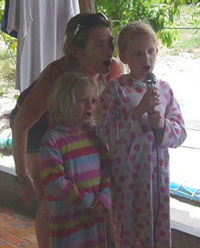 After a great morning snorkelling, our boat had to stop at a local fishing village to pick up fresh crab for dinner that evening. We arrived there at 11:30 to find the karaoke bar in full swing. Never shy in coming forward, the Bracey girls were quick to grab the mic singing renditions of Tie A Yellow Ribbon, Close To You and The Winner Takes It All. Ella was so reluctant to hand the mic to her mum that Gabby had to put all her efforts in to dancing instead!
Top of page
The Gibbon Experience
The Gibbon Experience wasn't just about the black gibbons, although the sound of them singing (somewhat reminiscent of someone on an early synthesiser) was an amazing way to wake up. It was as much about living in Tree Houses and exploring the lush Laos jungle on zip lines that were up to 150 metres above the jungle floor and 1km long. It put a smile on our faces every time...........and the views were spectacular!!!
Top of page
Sand Tobogganing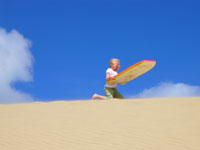 Loads of fun hurtling down the dunes. However, keep your mouth closed and wear tight pants, particularly for the longer rides otherwise you end up with a mouthful and knickers full of sand.......not pleasant!
Top of page
Jumping from Planes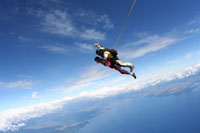 Gabby overcoming her fear of heights by jumping from a plane at 15,000 feet over Lake Taupo. A lot of fun and a great view........
Top of page
Dolphins in Doubtful Sound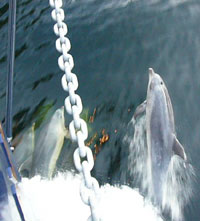 Some highlights from our Bottlenose dolphin experience on the Doubtful Sound. We all got a little over excited because there were so many of them and they were so big! The whooping is courtesy of Gabby...............
Top of page
Nevis Bungy Jump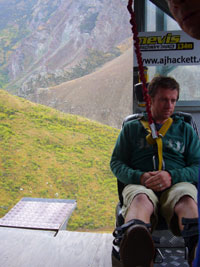 I was reading Florence's blog and apparently I was the only person that did not scream. Nice.... but I did look a bit scared as the chap drops the piece connected to my ankles over the edge!
Top of page
Kaiteriteri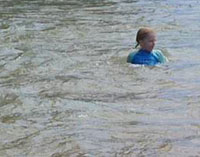 The 4m tidal range in the Abel Tasman National Park creates excellent opportunities for the brave swimmers to cover quite a distance.
Top of page
Ella Jumps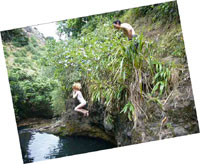 10 minutes walk form Sarne and Flo's is Opal Pool. A plunge pool between two waterfalls on the creek that runs to Karekare beach. 4m jump to a 3m deep pool. Did we think Ella would jump?
Top of page
Top of page